Mark from Actually Soccer asked me to join his new section "Actually Subbuteo" where they post items and Subbuteo interviews (10ForYou) regarding Subbuteo involved people. Here are my answers about my first Subbuteo memories, the teams I created and what my Subbuteo life looks like.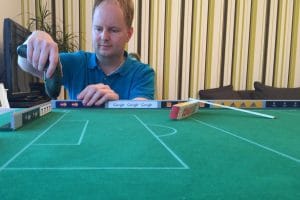 Actually Soccer: Who are you, what do you do, where are you from and how's your life related to Subbuteo?
My name is Oliver, I work at a university here in Germany. I grew up in the Ruhrgebiet (born 1976 in the City of Essen) and have always been a football fan. But Subbuteo was not popular at all in my childhood. My friends and I played Tipp-Kick instead. You know Tipp-Kick? Two teams of only one miniature soccer players face off on a tabletop playing field. Each player has a little red knob on its head; tap it and the player kicks an octagonal, two-colored ball across a green-carpet playing field.
Actually Soccer: What's your first memory about Subbuteo?
Many years later, in autumn 2015, I made up a plan to create a Tipp-Kick pitch on a wooden board. So I checked some YouTube channels to find a suitable tutorial. After clicking some videos, I stumbled upon a Subbuteo match and was thrilled immediately!
Subbuteo – what a beautiful game with strategical options. Fast, precise and best: with ten players and a goalie in each team. I couldn't get away from my computer and watched more and more matches. I realized that there are lots of rules waiting to be learned for a beginner. But that's what is so great about the internet: You'll find helping forums, news articles, shops and trading places for all kinds of equipment.
Actually Soccer: Are you a Subbuteo Collector?
I am not really a collector. Well, I have bought some teams and equipment (referees, substitute benches, a trophy and merchandise like cups or T-shirts). But on the long run, I am a DIY creator and have made my own Subbuteo table and seven hand painted teams with decals so far. I think, if you bought a ready-to-go team to begin your next Subbuteo match, you'd miss half of the fun: Try to prepare your own team with decals and colors instead. Crafting is an important part of Subbuteo's attraction.
"I try to catch the latest Subbuteo news on the internet"
Actually Soccer: Tell us something about your Subbuteo life.
I try to catch the latest Subbuteo news on the internet. I follow many people from the Subbuteo industry on Facebook and Instagram, I joined some interesting groups on Facebook and read and watch everything there is. In my little spare time I try to practice, most of he time alone or with family. And once in a while it itches in my fingers and I have to make a new team with decals.
Actually Soccer: What's your favourite team?
I have a BVB team (Season 2014/15 in black away shirts) on Sniper 2.0 LW bases which I really like. Not only because I am a supporter of that club but because of the fine bases' characteristics: good gliding, soft touch and control.
This is an excerpt of the the 10-for-you interview featured on Actually Soccer. Read the complete article.