Easy to learn but hard to master: Subbuteo is an exciting miniature Table Football game. My website "Flicking Forever" is dedicated to teach rules and playing techniques to all beginners.
Number of training exercises on Flicking Forever
Check out Flicking Forever's step-by-step tutorial for this smart and foldable Subbuteo table. Read more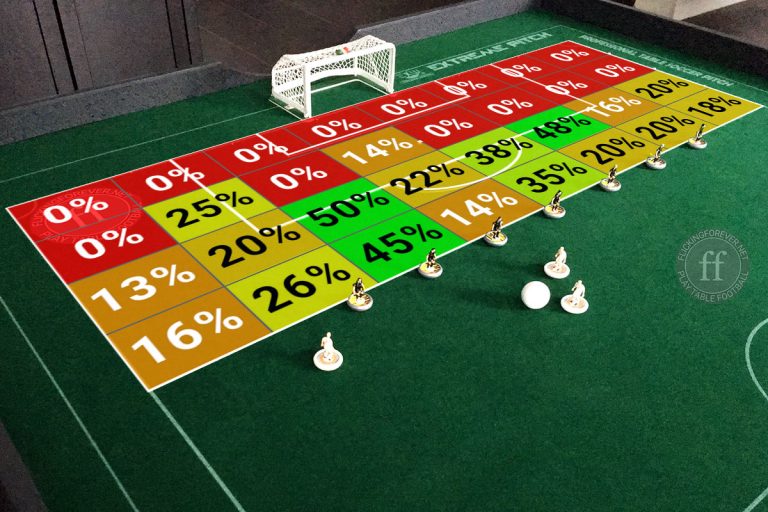 Where are the best positions for scoring goals? My exclusive analysis of 500+ goal shots from top players. Read more
people from so many countries have been on this website
Hello to all flickers from: Greece, United Kingdom, Germany, Italy, United States, Australia, Spain, Belgium, Portugal, Canada, Hungary, Malta, France, Netherlands, Peru, Singapore, Denmark, Czech Republic, Romania, South Africa, Serbia, Malaysia, United Arab Emirates, Japan, Norway, Slovenia, Ireland, Russia, Georgia, Mexico, New Zealand, Brazil, Finland, Sweden, Austria, China, Argentina, India, South Korea, Latvia, Bulgaria, Philippines, Switzerland, Taiwan, Venezuela, Cyprus, Myanmar, Chile, Croatia, Gibraltar. (Give me a note where you're from and I will update this section.)
"Thanks for this and everything on this website you have done. Brilliant work, thank you, so helpful."
"I LOVE LOVE LOVE your teams, especially FC St. Pauli. Just getting into table football, and your work is very inspiring."
"I love blogs such as yours helps bring me up to speed. Thanks for taking the time to post your site, It's an enjoyable and informative read."
"Expert analysis! This along with the rest of the web site is a fantastic resource for Table Football. Thanks for doing this!"